Triton Rugged Mobile 30X Zoom Day/Night Zoom & IR Thermal Infrared Multi-Sensor 2.5KG PTZ Camera
Some sample video from our Thermal Triton compact PTZ camera system.  https://triton.infinitioptics.com/
Note that the video feed for the visible camera was set to a lower bitrate and the resolution of the thermal sensor resolution in this model is 384×288 but is availbile in 640x480 and HD 1280x1024.
The Triton is a rugged, all-weather portable turn-key PTZ camera system. Its 30X HD day/night zoom camera provides both wide angle and long range capabilities with a horizontal field of view ranging from 67.8 to 2.4 degrees.  The triton can also featured 12um  284x288, 640x480 or HD 1280x1024 uncooled LWIR infrared camera with a 25mm or a 19mm when paired with 30x visible. The HD 30X camera features an ONVIF videostream allowing it to be viewed and controlled over the internet with a VMS or NVR. The Triton can also be configured with a 36X (3.4-122.4mm) analog camera for use with legacy systems. The thermal imager provides exceptional day/night situational awareness. The thermal video can be offered in analog or ONVIF IP by using a video encoder. All of this comes in a rugged aluminum IP66 enclosure that is low profile and weighs under 2.8kg (6 pounds), making the Triton a clear choice for marine and vehicle rapid deployments for police, navy and militaries around the world.
Key Features:
›› Low SWaP—Low Size Weight and Power
›› Lightweight < 2.8kg Package (6 pounds)
›› 1920×1080 Progressive Scan CMOS Day/Night Network or SDI Camera
›› 30X Optical 4.5–135mm HD IR-Corrected Continuous Zoom Lens
›› Visible Field of View from 67.8° to 2.4°
›› User-Defined WDR, HLC, BLC, AWB, Dehaze/Defog via Web Client
›› 12μm  384x88, 640×512 or 1280x1024 HD 12μm VOx Uncooled Thermal Imager
››  25mm 13mm or 19mm f/1.0 Athermalized Germanium Lens
›› Dynamic Image Contrast Enhancement (DICE) for a Clear Thermal Image
›› Micro-Step Technology for Quick, Accurate Pan/Tilt Better than 0.05°
›› Rugged IP66 Design with Optional Magnetic Mount System
›› Rated for Operation in Temperatures Ranging from −40° to +65°C
›› Military Connector Supplies Video, Power and Telemetry over a Single Cable
›› Integrated Magnetic Mount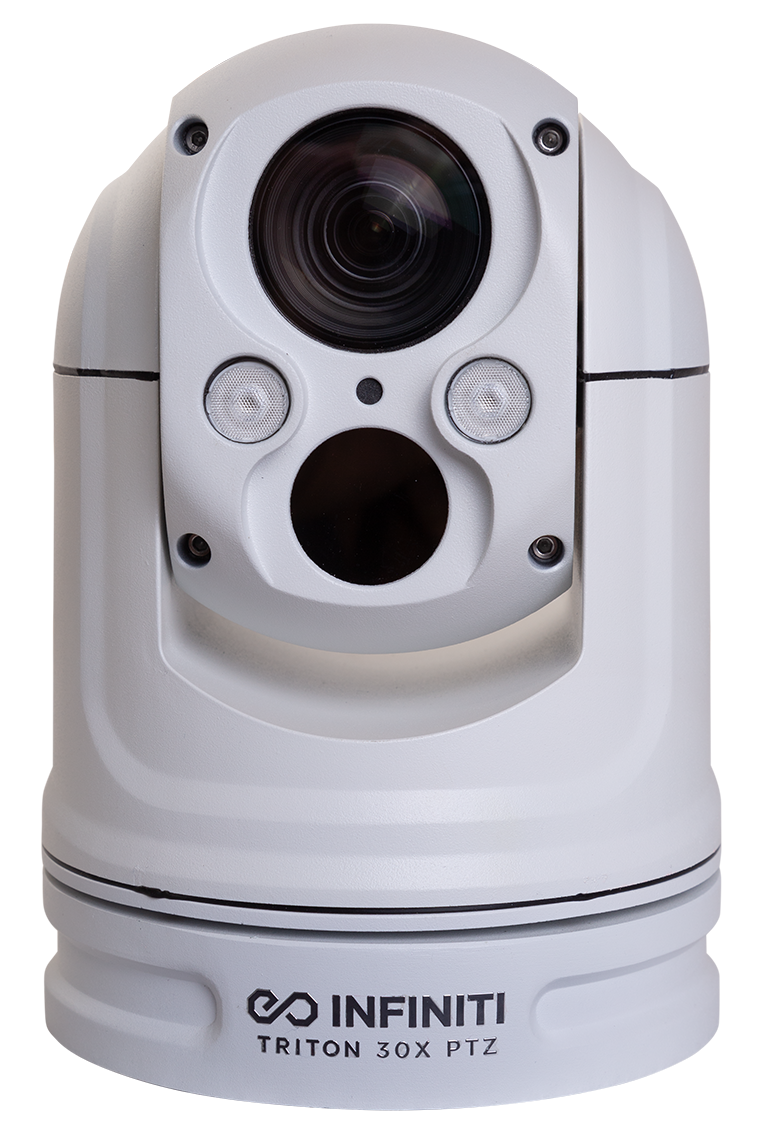 24/7 Imaging withThermal Infrared 
Thermal cameras, unlike traditional visible cameras, use heat rather than light to see objects, which makes them ideal for 24/7 day or night imaging. Humans, animals, and vehicles are typically hotter in contrast to most backgrounds making things like trespassers hiding in shadows or bushes easy to spot. Thermal images are also unaffected by bright light and have the ability to see through atmospheric obstructions such as smoke, dust, and light fog. Thermal imaging is a highly effective technology for many applications, including surveillance and security, search and rescue, fire, marine and land navigation, wide area situational assessment and much more.
Extreme long-range detection 
The tritons thermal cameras uses long-wave infrared (lwir) which means it operates on 7,000nm14,000nm wavelengths where targets emit most of their infrared/thermal energy. With our f/1.0 lenses and the built-in dynamic image contrast enhancement (dice) for increased contrast and image clarity, these compact systems can detect vehicles up to 3.2km away or humans at distances up to 1.4km
30x Zoom Visible Camera
The Triton comes equipped with a precision engineered 30x continuous zoom 4.5 135mm telephoto ir-corrected zoom lens offering continuous zoom from a wide 67.8 angle through to a narrow 2.4 field of view. The 1/2.8" sensor paired with the 135mm lens renders a field-of-view equivalent to a full-frame (35mm) dslr camera with an 800mm lens.
Rugged mobile rapid deployment
The triton is designed for maximum portability. It can be mounted upright or inverted, weighs under 6 pounds, and has a low power draw. It includes an integrated magnetic mount for quick and easy mounting on vehicles. It also can be built into a rapid deployment kit (rdk) that includes, power, wireless networking, recording, display and tripod to create a complete integrated surveillance solution. This camera is designed to be the ultimate mobile solution for marine, military, and law enforcement, and can be used both autonomously as well as part of a larger solution.
 
All Videos